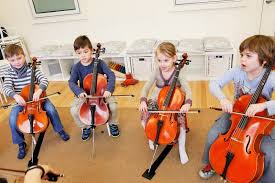 Jump Start to Twinkle!
Have you heard about the Suzuki Method and are curious to learn more? Do you have a child that has been asking to play an instrument?
Jump Start to Twinkle is designed to give children and parents an introduction to the beginning stages of learning in instrument in the Suzuki Method. This fun class will give families an idea of what to expect when starting an instrument, and will give a head start to those students starting in the fall. No experience necessary! The class is being offered for violin and cello.
Who: Children ages 3.5 - 7 years old and their parent (*NOTE - parent participation is required. This is not a drop-off class)
When: Sunday August 18, 6:00pm - Introductory Parent Session
Monday - Thursday August 19-22, 10:00-11:30am - Class
Where: Ridgefield Academy, 223 West Mountain Road, Ridgefield CT 06877
Cost: $100, includes all materials